Skirt: Talbots, Shell: Ann Taylor, Shirt: Banana Republic, Tights: Hue, Earrings: Anthro
I totally forgot I bought this shell
(until this week)
at the Ann Taylor Black Friday
50% off the store sale event.
Does that ever happen to you?
You find something buried in your closet,
and you're like...SCORE!
It's like shopping in your own closet.
Also, who else loves this sequin shell?
I think it might be a new favorite.
Now that I remember I own it I mean.
You can also see this layered under lace in
yesterday's
post.
Yes, I really did wear this two days in a row.
Shhhh! Don't tell...
I'm linking up today for Mix and Match Fasion's
What I Wore to Work series.
This link up is perfect for me,
since 9 times out of 10 I am showing you a work outfit anyways!
And yes, I wear sequins to work a few times a week :)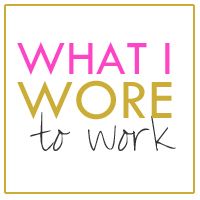 PS... I heard Google Friend Connect is going away! But we can still be friends right? You can also find me here....